All tools used in manicures and pedicures are sterilized with a chemosterilant and stored in individually airtight packages. Buffer and files are single use – they are never reused. Spa hygiene and healthy spa practices are of highest priority.
    Vegan Nail Polish – SPARITUAL® 
Try 36 NEW SHADES NOURISHING VEGAN COLOR
1-STEP FORMULA  Featuring Red Tea + Seaweed
to Help Strengthen, Hydrate, and Revitalize Nails
Rich in antioxidants and minerals, Red Tea helps to slow down the aging process, soothe & revitalize, leaving the nails looking bright and healthy. Seaweed Extract helps to nourish, strengthen & detoxify, while helping to support strong and healthy nail growth.
13 FREE. CRUELTY-FREE. VEGAN.
FORMULATED WITHOUT: Dibutyl Phthalate (DBP), Toluene, Formaldehyde, Formaldehyde Resin, Camphor, Triphenyl Phosphate, Hydroquinone Monomethyl Ether (MEHQ) / Hydroquinone (HQ), Gluten, Parabens, Ethyl Tosylamide, Xylene, Methylisothiazolinone (MIT), and Animal-Derived Ingredients
Kid-Friendly and Safe polish for the kids!
Kids Manicure $15 l Kids Pedicure $27  l  Kids Mani + Pedi $39
Manicure $34  l Pedicure  $44  l  Manicure + Pedicure $75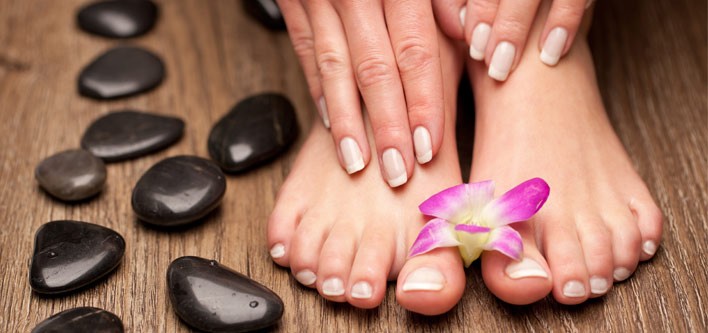 MANICURE
$34  GEL $44
Shape, Cuticle, Massage and Polish
NABI SPA MANICURE
$44
Manicure + Organic Ginger Sugar Scrub, Massage and Paraffin included
PEDICURE
$44  GEL $54
Shape, Cuticle, Organic Ginger Sugar Scrub, Massage and Polish
NABI SPA PEDICURE
$54
Pedicure + Sugar Scrub, Hot Stone Massage and Paraffin included
MANI & PEDI
$75   GEL $95
NABI SPA MANI & PEDI
$95   GEL $115
POLISH CHANGE (HANDS)
$24
POLISH CHANGE (FEET)
$32
PEDI & REFLEXOLOGY
$85
FRENCH POLISH ADD ON
$9+
GEL POLISH REMOVAL
$9
Kids Manicure $15 | Kids Pedicure $27 | Kids Mani & Pedi $39